Greyhound, a review.
It's good.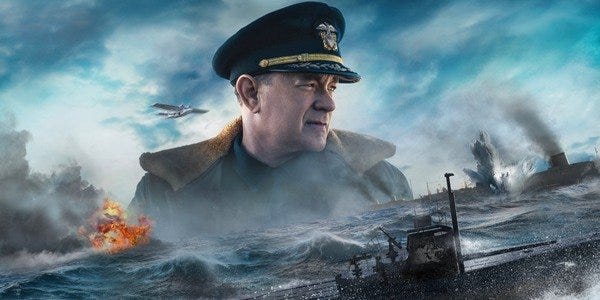 Poor Tom Hanks. First he catches the rona from Richard Wilkins. (Oh noes!) Or maybe he gave it to Richard Wilkins. (Yay!) And then the virus all but kills off the movie industry, just as another one of his WW2 passion projects is about to hit the big screen.
And Greyhound, his homage to the veterans of Battle of the Atlantic, is a film that really should have been seen on the biggest of honking big screens. There was any number of moments watching on my iPad — I have the big iPad, Tom! The really big one! Promise! — where I thought, yeah, that would've been awesome to watch in IMAX. Greyhound is basically an hour and a half of tiny little ships climbing mountainous walls of black, freezing water while trying to survive murderous attacks by Nazi U-boats. Oscars all around. And throw in a Nobel Prize or two while you're at it.
There's not much more to the story, and honestly there doesn't need to be. The worst of a very dangerous passage was always out in the middle of the ocean, a vast reach of the mid-Atlantic wastes known as 'the Black Pit'. Beyond the range of shore based air cover it was a happy hunting ground for the wolf packs of the Kriegsmarine. Most of the movie takes place there, as Hanks' Captain Ernie Krause and the good men of the USS Greyhound go through hell attempting to safeguard a convoy of merchantmen bound for England.
Hanks effectively reprises his role as Captain John Miller in Saving Private Ryan, playing a decent man doing terrible things. Except this time he's very wet.
And the moral judgment re. Terrible Things isn't mine; it's Cap'n Ernie's. When the crew celebrates an early success in sending one German attacker to a watery grave, Hanks reminds them they didn't just deep six a bunch of inhuman Nazi killbots.
"Congratulations, Captain. Fifty less Krauts," enthuses one junior officer.
"Yes," Captain Ernie says regretfully. "Fifty souls."
We never see any of those souls up close, but occasionally when the Germans happen upon the frequencies being used to communicate between the ships of the convoy, we hear from them, taunting and trolling the escort ships. I don't know whether this was a real thing but Cap'n Ernie never takes the bait. He never replies. He just changes the channel.
I have my own Battle of the Atlantic 2 (Russian Boogaloo) to write for WW3.1 this year, so I'll be going back to Greyhound for inspo before I do that. One of things I thought they handled deftly was race. The USN was still an overwhelmingly white male bastion in the Second World War, with women nowhere to be found near combat and African American men restricted to mess duties – although they played other supporting roles once the shooting started. And on the small, isolated exposed stage of a destroyer at sea, they faced exactly the same risks as everyone else.
I won't explain how Hanks dealt with this, but given the constraints of inherited reality I thought he did very well.
I thought the whole movie did well.
It's on Apple TV+ for those hooked into the fruit company.